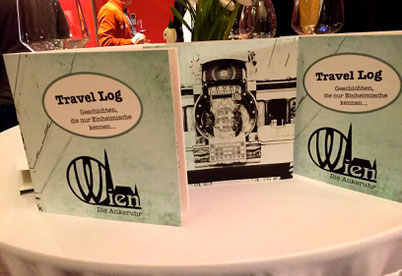 While writing the first Travel Log I stood desperately in front of the Anker Clock. "Which story could I tell? One of the statues? Would be unfair. Its making? But what do I know?" Questions upon questions; and then breakdown.
So I called the Helvetia Insurance Group. I explained my matter; Bianca Herzog burst into enthusiasm immediately. After the first meeting it was clear: "We create a special edition to do the old lady the compliment."
Completely awestruck I examined the architect's Franz von Matsch original sketches and drawings, together with Gerald Sabath, the Keeper of the Anker Clock. I discovered I fascinating gate into another world. For me that was Travel Log live. The stories and the design almost created themselves and soon after the curtains were lifted.
October 20, 2016; 7pm; Headquarters of the Helvetia Insurance Group Austria
Travel Log – The Anker Clock came into the world
It was a wonderful evening. Gerald Sabath told all these stories, which the guests carried home.
It is an honour and a pleasure to be a part of this artwork's history now!