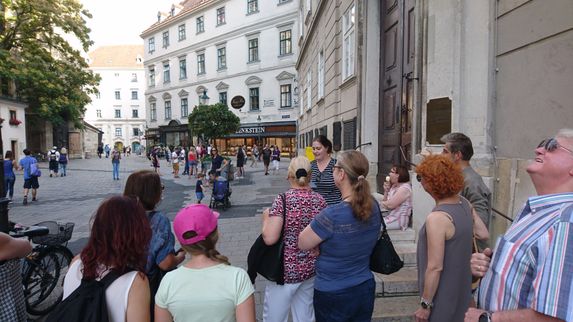 That is my motto for yesterday's Travel Log's reading tour.
I am happy and so very proud of myself that for the very first time I was able to present my own stories to a selected audience. It happened at several locations between Vienna's St Stephen's Cathedral and Michaeler Square. No mic – that goes without saying ;)
Though I enjoy telling it, there are only a few people who know. About 10 weeks ago I started a training in elocution to become a professional speaker. I attended that class rather by accident, but delight and euphoria aroused quickly. Speaking itself – together with my outstanding instructor – woke and revived aspects in me that have most likely made me a new being. Like a text in our learning materials predicted: "New Voice – New Person".
I have already finished the first part of this education with passion, nerves of steel and many unique colleagues. And – thanks to the universe, all divinities on earth and destiny – I will start the advanced course next week :D
Since I am so very excited I have done the reading tour now. It was my test whether my voice, without technical frills just the way it is, is audible – or rather: perceptible in public amongst tourists, cars, carriages and church bells. Yes, it is and I am. And with that my stories are. Thus yesterday – September 3rd, 2016 – became the day when my newfound vocation has become my profession!
Many thanks to all who have escorted my up to here and on the reading tour. There are many names to be mentioned. I renounce because I know these benefactors feel involved. Still I have to honour one person: Elentári, whose graphic designs beautify my writings so much.
And I close with the same imperial words as on yesterday's reading tour: It was very nice, I enjoyed it very much!