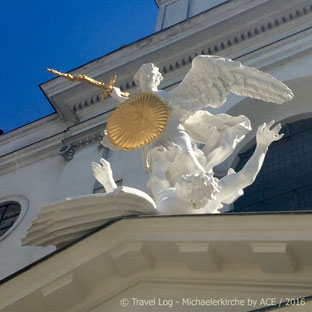 On my yesterday's walk through the city this beautiful angel watched me triumphantly. He is enthroned over the entrance of St Michael's Church at Michaeler Square next to Hofburg.
Archangel Michael is guardian of the gates of heaven that he protects with his fiery sword. He has earned this position in his fight against Satan himself. He has fought the evil and brought it down. Immediately before the Fall he whisperd into Satan's ear: "Who is like God?" By the way, this question is the translation of his Hebrew name "Mi-ka-el".
At the latest we will all meet Archangel Michael at the Last Judgement when he discharges his duties as "soul weigher".