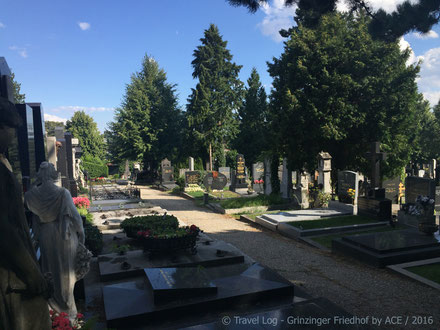 Last week I have taken a tour through the Grinzing cemetery. It is located in a part of Vienna I hardly ever visit, though it is so very picturesque. One tavern follows the other, the Kahlenberg rises high so you look down onto the city. That is why I am not at all surprised that so many well-known names lie here. It is a marvellous last resting place.
The cemetery is at the end of a street called 'An den langen Lüssen'. I have asked myself: "Sorry... what?" The guide explained that means something like 'at the long lots'. My inner voice replies: "Well, sure. Hang on... what?" In the middle ages it was custom to assign everything – properties, houses, valuables – by lot. The Grinzing soil was divided into stripes and assigned to the farmers by lot. That is why I have been 'an den langen Lüssen'.
The cemetery itself is a very quiet place and thanks to the sunshine it is also a place to take a time-out. On the gravestones you detect many artists' names. Peter Alexander lies near by Thomas Bernhard. Gustav Mahler and his early deceased daughter is buried one grave row away from his widow, her latter husband and their early deceased daughter. Attila Hörbiger, Paula Wesely and Raoul M. Aslan have found their last resting place here, too.
The templish, monumental grave stones are remarkable as well. They form a gate into another world – a gate we all have to pass someday.
For me the Grinzing cemetery is an artistic-mystical place that invites to relax and sends you thoughts on a time travel.