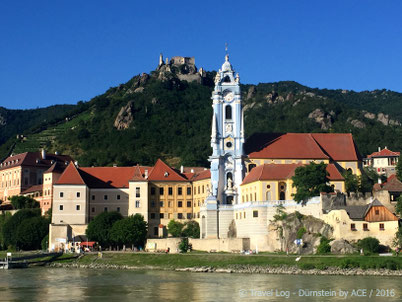 Dürnstein, an ancient, picturesque small town at the Danube river, is famous for the imprisonment of one notorious man: Richard I. Lionheart.
The English duke was a power-obsessed and relentless king who won his father's crown in a coup. His ally was no other than the French king Phillip II. Together they also set out for the Third Crusade. There, Richard claimed more power without any sense of diplomacy. Eventually Phillip II. and the Babenberger Leopold V. of Austria turned against him.
On his way back from Jerusalem, which he had had to leave without having achieved anything, Richard learned that Phillip, who had had left the crusade early, had closed all French ports. The land route was Richard's only option back to England.
Disguised as a poor pilgrim Richard set off from Sicily. Unfortunately he had to pass possessions of the Babenberger. The pretended pilgrim attracted attention by behaving very imperiously and was detained at Dürnstein.
The Babenberger claimed. Amongst other things they wanted 23,3 tons of silver – double of the yearly earnings of the English Crown. Richard himself rejected to pay, as well as his younger brother and interim king. It was only the mother who raised the money. The result is that there are no precious artefacts from that time left in UK. The financial weakening and the following riots were the beginnings of the Robin Hood myths.
The ransom money was invested into a campaign to Sicily, renovations of the city of Vienna, the founding of Wiener Neustadt and the fortifications of the cities of Friedberg and Hainburg. Until today Richard I. Lionheart lives on in Austria!