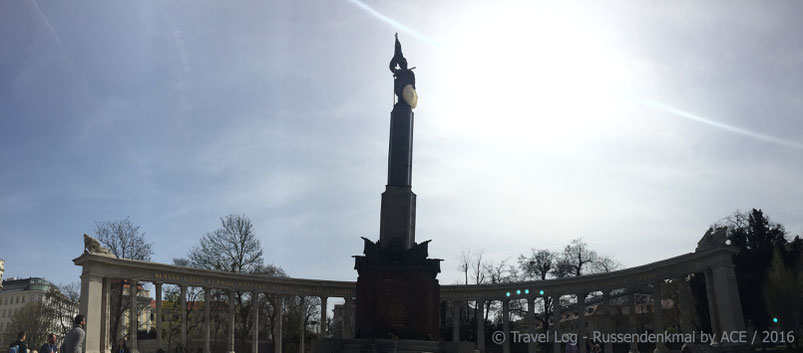 71 years ago the Soviets won the battle over Vienna against the Nazis. Three month prior – in January 1945 – and confident of victory, they held an architectural competition for a monument of the liberation of Austria. Major G. G. Jakowlew's pencil sketch won the bid. And before the Red Army reached Vienna first models were constructed. Due to clay shortage sculptor Lieutenant Michail Awakowitsch Intesarjan used leftovers of bread, which he moulded around a bottle.
On August 19th, 1945 the monument was unveiled. A Soviet soldier with a golden shield and a flag stands on top of an eight-meter high column. 26 smaller columns edged by fighting soldiers frame it. The Russian words on the arch mean: Eternal glory for the heroes of the Red Army, who fell in the battle against the German Fascist land grabbers – for freedom and independence of Europe's peoples.
Lovingly – as the Viennese still are – they nicknamed this soldier respectively his monument: Monument of the Unknown Plunderer, Russian Monument or Peas Monument and Peas Prince.
The latter comes from a food donation by Stalin who gave 1,000 tons of peas to the starving population on Ma 1st, 1945.
Now our Peas Prince guards at the foot of the castle of that prince, who has kept the Ottomans outside of Vienna: Prince Eugene of Savoy. But that's another story...