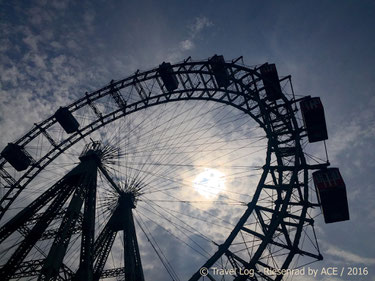 July 3rd, 1897 – Today is the grand opening of Vienna's Ferris Wheel at the Prater. It's a hot day and the sun burns down onto the lawn. Luckily the big trees give their shadows to all those visitors gathering beneath the ride.
Finally it starts. The wheel starts rolling. The riders wave out of the windows, the visitors cheer. A new, secular landmark in the Habsburger Empire is established in honour of Emperor Franz Joseph and his 50th throne anniversary.
It is real amusement to enter the gondola and be carried up high to the clouds. The view reaches far: spacious hunting grounds, Vienna's inner city with St. Stephan's in its heart and Kahlenberg on the horizon. For everyone who can afford 8 Guilders (approx.. 300€) it is a truly majestic view.