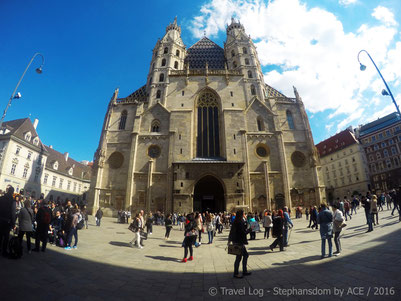 For about 600 years Saint Stephen's Cathedral jewels our cityscape. It is THE Viennese sight and towers the inner districts. A wonderful masterpiece with uncountable stories to tell. Today I introduce to you: the west side.
Most people just call it the main gate. Insiders know the proper name is Giant's Gate. A giant mammoth bone has hung above the gate for decades, as the folk saying goes. The Giant's Gate is towered by the two Pagans' Towers.
Lions and griffins observe the visitors from their outposts in the wall. A judge has taken his place above people's heads. The Viennese call him Thorn Extractor because he misses one leg and there is just a nail left in his knee. Anyway, the biggest curiosities are the male and female genitals on those two columns. Interestingly they are positioned the opposite of the inner separated seating arrangements. The church says it wanted to break the power of those symbols. Artists say they wanted to weaken the power of the church. I leave it to you to make up your mind. But fact is, a penis and a vagina frame the main entrance of THE Viennese sight.
If you don't have any plans for the weekend yet I recommend: go to St. Stephan's to explore (his)stories!