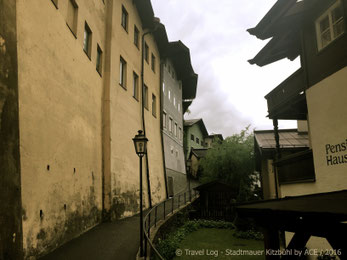 On my Tyrol visit my friend and personal tour guide and I were cast up in Kitzbühel. It is a lovely, medieval city, with a core full of stories.
My favourite was the medieval city wall across which we took a little walk. Yes, we walked across it! Because this wall still is something very special.
In the 13th century Kitzbühel had been part of the Dukedom of Bavaria. Located in a fringe area it experienced advantages and disadvantages alike. Surrounded by three foreign countries encroachments were permanent threads. Its situation was worth a mint as an outpost for successful trading. That was the reason Bavarian Duke Ludwig II. exalted the village to a city.
At this point a solid and securing city wall was needed. A difficulty if you didn't want to move existing houses and couldn't move mountains either. The inflow of people in the new city let houses mushroomed up everywhere. The citizens constructed their houses as a city wall. Efficient, convenient and simple – a formula for success, that had affronted all dangers of the Alps until today.