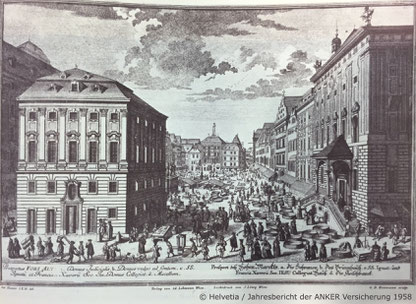 The Hohe Markt (High Market), where you find Anker Clock today, used to be the city centre of medieval Vienna. Its name already presents its importance, as it was the highest of all markets.
From 1325 to 1850 the High Court - called Schranne – was located in the house which is number 11 today and that supports one side of the Anker Clock. An this story could have happened here...
The town council steps onto Schranne's terrace. He holds a parchment in his hands. Hundreds of Viennese have gathered to his feet. They preserve his judgement. In the front is a young woman with flame red hair. She pulls at the two guards who capture her. The council darts her a glance of pity. Moments ago he has had prayed for her obsessed soul at the chapel belonging to the court. He doubts its use. Finally he enrols the parchment. With a loud voice he announces her death sentence after three days at the pillory. The red-head shouts and pulls and spits at him. His greatness protects him from her outrage.
Under cheerful shouts the woman is led to the pillory. It takes four men to tether her up. Before the men leave the pedestal, Viennese already throw their rotten fruits. They almost hit one man. He dives at the last second and the rotten tomato hits the witch's breasts. The crowd laughs. Now a harvest rains onto the woman.
On the terrace the council has seen enough. He rolls the parchment again and steps back inside. It is time for another prayer at the chapel that is called "At Christ's Mortal Fear".