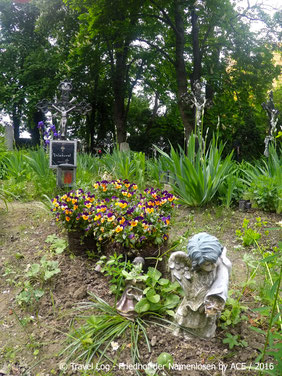 The Cemetery of the Nameless is a quiet place and peaceful. Solitude of the city and loneliness give this place a reverent but still pleasant atmosphere. For me that's strange to a cemetery. I want to dwell here, come to peace and explore the few known life stories of the Danube victims.
The first Cemetery of the Nameless was established on the other side of the dam in 1840. A water swirl washed up drowned bodies. Bloated and unrecognisable they remained nameless in death. The Danube in assimilated them again after their death during a flooding.
In 1900 the Cemetery of the Nameless was moved to the other side of the dam. Here the Danube victims rest, nameless and unknown. Their stories long drowned by streams of Danube and time.
Tief im Schatten alter Rüstern,
Starren Kreuze hier am düstern
Uferrand.
Aber keine Epitaphe
Sagen uns, wer unten schlafe,
Kühl im Sand.
Still ist's in den weiten Auen.
Selbst die Donau ihre blauen
Wogen hemmt.
Denn sie schlafen hier gemeinsam,
Die, die Fluten still und einsam,
Angeschwemmt.
Alle, die sich hier gesellen,
Trieb Verzweiflung in der Wellen
Kalten Schoß.
Drum die Kreuze, die da ragen,
Wie das Kreuz, das sie getragen,
"Namenlos".
Gedicht von Graf Wickenburg
Deep in the shadows of old elm trees,
Crosses stare here at the gloomy
Edge.
But no epitaphs,
Tell us who sleeps beneath,
Cold in the sand.
Silent are large meadows.
When the Danube inhibits her blue
Waves.
For they sleep here joint together,
Those washed ashore by floods,
Silent and alone.
All who join here,
Despair has sent in the waves
Cold lap.
That is why these crosses looming,
Carry like the cross they've borne,
"Nameless".
Poem by Graf Wickenburg
(freely interpreted by ACE)