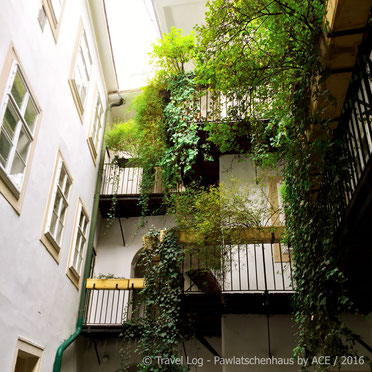 Every time I enter the patio of Blutgasse 3 in Vienna's first district, I take a time travel into the 19th century.
In those days Austria wasn't this little spot on the map reminding of a chicken knuckle. No, it was a proud monarchy ruled by one of the most outstanding families and counting more than 51 million citizens. Vienna used to be a melting pot of countless cuisines, traditions and peoples. The latter also brought their houses – well, rather their architecture. So called Pawlatschenhäuser came originally from Czechia. In English you might call them outside-corridor-houses or similar. Anyway, in those days Vienna was full of such houses. Almost always you found them next to small classy palaces. That was because those Pawlatschenhäuser were accommodations for servants and maids. To have them at hand day and day out high society quartered them in the direct neighbourhood.
As said before, for me these stories trailing around the Pawlatschen corridors and balconies are still alive!