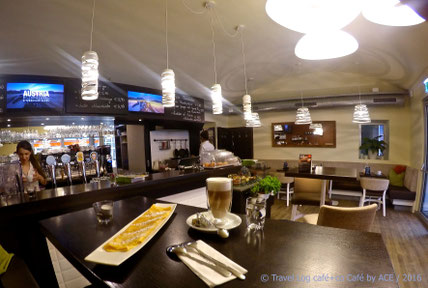 I've found a place I want to share with you. Mainly because there I experience things I hugely miss in daily routine.
Every time I walk through the door of café+co Café I feel time slowing down. I can breath again and I feel seen and recognised just the way I am. As soon as I sit at my table the magic moment has captured me entirely.
As a Viennese writer I follow the tradition of tuning the coffee shop into my creative workshop. Typically I beam myself into other worlds with my Creative Playlist. But not here. At the café+co Café I pull the headphones – 21st centuries protective shields – out off my ears and enjoy my environment. As regular customers we give each other a nod. At least we see each other quite often. Loreta serves with a smile like the sun itself. Sanja hand-decorates coffee milk foam hoods like Michelangelo's daughter. Anastasia with her power and experience is solid as a rock. And Roland radiates such a pleasant calmness that the sand of time itself seems to run backwards.
The climaxes of this magic moment are freshly roasted coffee, tasty cakes, Grandma's Bundt Cake and delicious Palatschinken (special Austrian pancakes). Exotic coffee types like Jamaica Blue Mountain and the best iced coffee I've ever had in my entire life add a lot of variety. Best thing is you can watch them making the sweet and the tasty Palatschinken.
I could go on like this forever. But instead I recommend you go there yourself, enjoy the time and take this special magic moment home yourself.
-----------------------------------------------------------------------------------------------------------------------------------You find the café+co Café on Landstraßer Hauptstraße 3, 1030 Vienna.