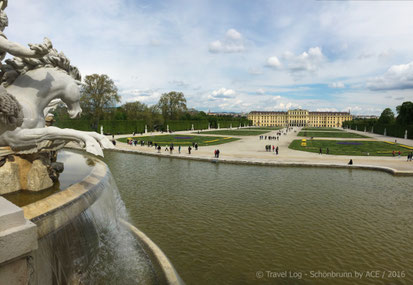 "Left, two, three, four! Left, two, three, four!" A couple of youngsters, maybe 11 or 12 years old, goose-step past me. Of course I jump into a proper salute. The boys grin and thank me politely.
Smilingly I move further on my exploration tour through Schönbrunn. How easy it is to give someone a special treat. On top of the curved staircase I can see them marching along to Neptune fountain.
100 years ago the Imperial and Royal army of the Habsburg Empire marched and drilled here under the watchful eye of Emperor Franz Joseph. Well, our good old times when Austria was a world empire; when ladies wore beautiful gowns and gents wire elegant uniforms; when the world was conquered on horses' backs; when formal curtsy and kisses on hands were omnipresent. Oh, how do we miss these good old times.
Luckily we still have Schönbrunn Palace hosting the monarchic flair in its ballrooms, lounges and parks over decades and centuries.