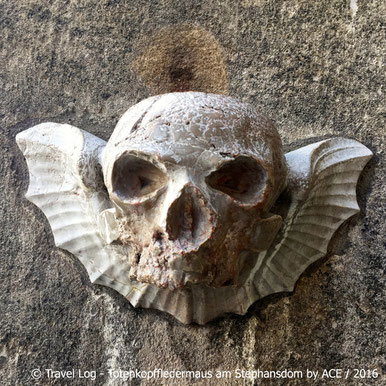 Lately I've had the pleasure and the honour to get a tour around Saint Stephen's Cathedral, Vienna's most famous sight, by its registrar. It's unbelievable what you see and learn there... I'll tell you those stories in my next articles. But this encounter I need to share right away.
As I diverge from my guide to take a few steps on my own I walk closer to the frontage for a close inspection. Suddenly this skull stares at me – on eye-level.
A carriage driver behind me says: "That's an ashtray." Erm... yes, sure. Now I'm curious. What the hell is this? In a close-up it turns out the bat-skull is an aspersorium.
The story is the following. This charming little bat-skull hangs right next to the entrance to the crypt. It guards this intermediate place between life & death, bright & dark, light & shadow. And it's located on the cathedral's northern side. That means it's in the shadows all day long, just the way bats and skulls prefer their being.
So beware when you discover the mystical shadows of Saint Stephen's. You never know who watches you...