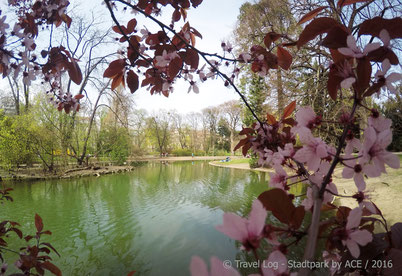 Warm sunbeams, blue skies and the oldest public park in Vienna. Like me, countless other people enjoy spring's spirit: lovers stroll, toddlers take their first steps holding on to daddy's hand, old couples enjoy togetherness.
   My thoughts drift.
   1863. Around the pond ladies and gents stroll. Tailcoat tails wave in the wind, pompous gowns rustle with every step. On the other side of the Stadtpark day labourers gather. They discuss their lives within the Danube Monarchy in umpteen tongues.
   Slowly the sun sets behind horizon. The Stadtpark empties, until revellers regain. 1863 & 2016.